My son Paul is a music producer living in Los Angeles and not long ago he threw out an idea: instead of him coming out to the freezing, cold Midwest to shiver his way through the holidays, why didn't the rest of the family come to LA?
The rest of the family took a look at the long range forecast and said yes.
But then life intervened and getting us all scheduled to go at the same time was like herding cats with ADD and a crystal meth habit.
Now we're all going and leaving at slightly different times and without paying much attention, I somehow managed to book a flight to LA on Christmas Eve which is exactly how Die Hard started so if I get invited to a party in the Nakatomi Building I won't take my shoes off like that dumbass Bruce Willis.
If all those top-notch movie references eluded you, you clearly need to watch Die Hard again and if you tell me you've never seen it you're not exactly dead to me, but you're definitely on life support.
Which brings us to an important question:
Is Die Hard a Christmas movie?
Apparently there is a yearly internet debate about whether or not Die Hard is a Christmas movie, but I just found out about this conflict which is kinda like Robert E. Lee finding out about the Civil War two years after Appomattox.
Why didn't someone tell me?
I will attempt to start that debate all over again by posting a thread on the subject that will give you a chance to express yourself and just in case you need to brush up on the subject, here's a link to an article that explains why Die Hard is the perfect movie for the Christmas season:
https://ew.com/article/2015/12/24/die-hard-christmas-movie/
So where were we?
That's right, headed to Los Angeles on Christmas Eve which my calendar tells me is tomorrow.
Traveling on Christmas Eve
To be perfectly honest there's a fulltime carnival going on inside my head 24 hours a day; cartoon ideas, articles I want write and sexual fantasies that would make Caligula say, "Now, that's fucked up."
(OK, in that last paragraph I exaggerated for comic effect…I don't have that many cartoon ideas.)
Anyway, since I've got my hands full performing air traffic control on the thoughts zooming around inside my head I often miss things happening outside my head like your name, your spouse's name, what you do for a living and why you're talking to me.
It's also how I ended up flying on one of the worst travel days of the year…Christmas Eve.
Booking a flight on 12/24 just didn't register as anything out of the ordinary, but as with most of my dumb decisions I'm pretty sure I'll wind up with a good story and if I do I'll tell it here. As I've said before and no doubt will again, good stories do not start with: "So the plane was on time and my luggage arrived safely."
I'll fly out of KC tomorrow morning…wish me luck.
But this is only part of what I wanted to tell you; now here's the rest.
A misguided tour of Los Angeles
I lived in San Diego for two years and when I would drive home to Sacramento I had to go through LA and I mostly went through as fast as I could. I've got no idea what Hell or Heaven look like, but I'm pretty sure Purgatory will be remarkably similar to driving through Los Angeles during rush hour.
So I never spent much time in Los Angeles despite having been there on numerous occasions and now I'm going to make up for that. Since I'm going to be there throughout the holidays, I'm going to visit some of LA's most famous landmarks and write about them afterwards.
Now here's a partial list of places I plan to visit:
The Hollywood Walk of Fame
Apparently there are so many people with a star on the Hollywood Walk of Fame (over 2,600) if you tried to see them all you'd eventually walk all the way to Elko, Nevada which is why they considered changing the name to the Bataan Death March of Fame, but there were copyright infringement issues.
According to the internet, if you get nominated and selected someone owes the Walk of Fame people $40,000 for installation and maintenance which sounds like a scam and makes me think I should start a Driveway of Fame because mine needs repaving anyway and I wouldn't mind never working another day in my life and driving my Toyota Matrix over a star with your name on it.
Nevertheless, I will take at least one selfie on the Walk of Fame and if you have any suggestions whose star I should take it with, let me know.
Grauman's Chinese Theatre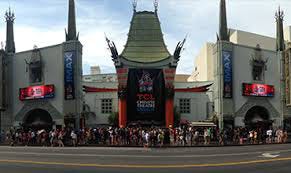 This is now known as TCL Chinese Theatre because some Chinese electronics manufacturer bought the naming rights. I was going to watch a movie there – the new Star Wars is playing – but I've decided to boycott such crass commercialization and instead stay in my motel and watch the PlayStation Fiesta Bowl taking place in State Farm Stadium which is not a thing I made up, but kinda wish I had.
The Frolic Room
If I've got my history right and I often don't, the Frolic Room is next to the Pantages Theatre which is where they used to hold the Academy Awards until it got too big for its britches.
Because of its location the Frolic Room was where people like Frank Sinatra and Judy Garland got shitfaced, before, during and after the Oscar ceremony. It's also the last place Elizabeth Short – The Black Dahlia – was seen alive, so it's got that going for it as well.
An article on Hollywood Dive Bars suggests ordering an Old-Fashioned when you visit the Frolic Room, which seems like bad advice…I'm going to order two.
Musso and Frank Grill
Some people think Musso and Frank Grill serves the best martini in the world so I plan to go there and try one even though I think most martinis taste like something you could use to run a lawnmower.
But if Musso and Frank serves the best martinis in the world, I'll give it a shot.
So apparently if I found out Cedars-Sinai Medical Center gives the best enemas in the world, I'd line up to get one of those too and if that actually happens, I promise: no selfies.
Hollywood Forever Cemetery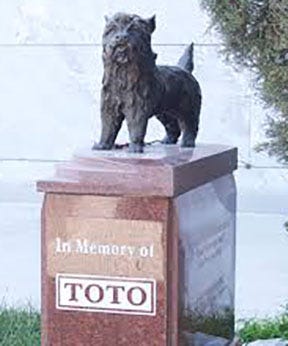 Any cemetery that hosts George Harrison, Bugsy Siegel and the kid who played Alfalfa in the Our Gang comedies is probably worth a visit, but you couldn't afford to live there.
According to at least one article on the internet a Hollywood Forever plot can cost you as much as $242,000, although if I had that kinda money to throw around, I'd save it for my visit to Musso and Frank because a side order of mash potatoes goes for $11.
Sounds like I won't have to go to Cedars-Sinai to at least feel like I got that enema.
Now here's the rest of my destination list in no particular order: Venice Beach, Santa Monica Pier, Griffith Observatory, Malibu and the Polo Room in the Beverly Hills Hotel. Also Bar Marmont if I have any money left after gorging on mashed potatoes at Musso and Frank.
And you can help me plan
I'm feeling pretty positive that I have no idea how this trip will actually turn out and how many of those places I'll actually get to. There's the stuff you plan and the stuff that happens in reality and those lists are rarely the same.
So I'll hang loose and won't be afraid to add or subtract to my list of destinations and that's where you come in; if you have suggestions for places I should visit, leave a comment here on this site and I'll see what I can do.
But I ain't going to the Nakatomi Building if Hans Gruber is on the guest list.
See you in Hollywood.