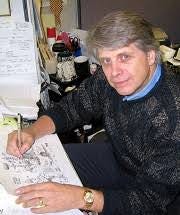 When I got up to speak at Dwane Powell's Celebration of Life I knew just what I was going to say.
I was going to tell the story of the day I meet Dwane back in 1979; the day I attended my first Association of American Editorial Cartoonists convention and the day I managed to lock myself out of my hotel room wearing nothing but a Speedo swimsuit.
Short version: I checked in late to the Camelback Inn in Phoenix and was given a cabana at the back of the complex. It had a chandelier, a baby grand piano and its own private swimming pool. The Camelback was jammed and it turned out they had to give me the cabana that owner of the complex used when he was in town.
Back then I'd run 3 to 5 miles a day – these days I don't run 3 to 5 feet unless something's chasing me – and instead of a jock strap I wore a Speedo swimsuit under my running shorts.
So when I got up the next morning and wanted to take a dip in my own private pool, I had nuthin' to wear but that damn Speedo and didn't realize the door to the cabana was going to lock behind me and I was then looking at pretty good hike through a resort complex to the hotel lobby to admit I locked myself out of my room and didn't look as good as Mark Spitz in a pair of ball-hugger swim trunks.
It was a time that tried men's souls and women's gag reflexes.
So I channeled my inner Alexander Mundy – Google him – and broke back into my room with a butter knife. Anything was better than wearing that humiliating Speedo into a crowded hotel lobby.
The end of the story was a day that started out in mortifying fashion (which doesn't happen now unless I get out of a shower and get a good look at myself in full-length mirror) finished up with me and a bunch of people who would become my friends for the next 40 years, sitting around the hotel pool, drinking beer and singing Jimmy Buffett songs while Dwane played the guitar.
And that's when the image of my friend Dwane – laughing and playing guitar – popped into my head and I fucking lost it.
I stood in front of a room full of people and cried like my dog – or one of my best friends – had died.
80 percent
Later our mutual friend Mike Keefe – former Denver Post cartoonist – got up and told a story about taking a hike up some hill with Dwane and Mike's son Brady. At one point Dwane turned to Brady and asked how he was doing and Brady said: "About 80 percent."
Decades later when the end was near and Dwane was sick in bed, Mike and Brady came for a visit and when Dwane's wife Jan asked Dwane how he was doing he looked over at Brady and said: "About 80 percent."
Dwane Powell was on his death bed and still making jokes.
Mike followed my example and cried as he told us the story. Afterwards Mike and I hugged and I said just think of all the pain and anguish we're sparing our friends by being assholes now.
So if you think I'm a dick, you're welcome.
The last laugh
I wasn't sure I was going to share the story of my last conversation with Dwane and once I lost it and couldn't continue, that story went out the window.
But here it is and if you get your BVDs in a twist over political correctness you might want to stop reading now.
In that last phone conversation, Dwane – deserving of a Pulitzer he never got – told me he thought I never got the recognition I deserved.
So I told him my buddy Bill Deore – Dallas Morning News cartoonist – and I had cooked up a plan in which we were going to announce we were a gay couple and that would most likely ensure that the Pulitzer people would rush to give one of us an award to prove how liberal they were.
I told Dwane the plan fell apart because we couldn't decide which one of us was giving the other one a blow job.
Dwane started laughing like a hyena and then said: "Oh shit! My ribs!"
So once again, a guy staring death in the face still managed to laugh at his friends' antics.
The best you can do
I've got a friend who's about to turn 50 and she confessed she was having a problem with it. She feels like it took her 50 years to get her life the way she wants it and now the ride's half over.
Being the positive, uplifting guy I am, I pointed out the ride was way past the halfway point.
At 50 maybe you've got 20 healthy years left and after that you're shitting yourself in some old folks home while the grandkids come by once every six months to see if you've kicked the bucket and make sure you haven't revised your will and given your worldly goods to a home for wayward cats.
So after that inspirational message she asked what the hell do you do with your life and I suggested she hug her loved ones, laugh as much as possible and pet a dog at every opportunity.
When your whole life is in front of you everyday shit can seem pretty mundane, but when the days are dwindling down to a precious few, all that mundane stuff seems pretty wonderful.
When Warren Zevon – the Werewolves of London dude – was dying, he was asked what he had learned about life and he said, and I quote:
"Enjoy every sandwich."
So that's all I got for you: however many days we all have left on this earth, try to enjoy them. Laugh a lot, hug a lot and whenever you eat a sandwich, enjoy the shit out of it.
It's what Dwane would do.