I'm currently sitting in my best friend Phil's pool house, sipping his Jose Cuervo Blue Agave Silver Tequila between slugs of ice cold Killian's Red, waiting for him to barbeque some baby back ribs for dinner.
I'll be the first one to tell you writing is hard; most people's livers can't take it.
Sunday morning started as it usually does when I visit Phil; my room is under the kitchen and when I hear him moving around upstairs it's time to get up and see what's cooking.
Phil makes an awesome fried-sausage-and-egg sandwich and usually serves it up with steaming black coffee made in a French press. I have assured him as long as the meals, gourmet coffee and top-quality liquor keep coming, I'll write about him favorably.
It's not exactly blackmail; it's black-coffee-made-in-a-French-press-mail.
Those who can do; those who can't should hang out with them
Phil, his wife Judy and I have known each other since high school (that's her looking swanky in the shades and fedora). I was the best man at their wedding and Phil was the best man at mine. With Judy helping him every step of the way, Phil made it through med school while I drew funny pictures.
To give credit where credit is due, they have worked hard for everything they've got and I've worked hard at staying friends so I can hang out with them and enjoy the rewards of their hard work.
But being a freeloader is an art.
Even though it goes against my nature, every once in a while I have to pick up a dinner check or clean up something I've broken without being asked to do it. But do those things too often and I'll lose my Professional Freeloader Union Card; it's a damn fine line.
So for those of you who are amateur freeloaders, thinking of going pro, here's some solid advice:
When Muhammad Ali was boxing he wanted to win the last 30 seconds of every round. He figured that last flurry of punches would stick in the judges' minds when they scored the round and influence their decision.
I use the same technique.
I soak Phil and Judy for a full week and then buy that last dinner just about the time they're ready to kick my butt down the road. So the next time I want to stay with them, they remember that last dinner and say OK.
(Pretty sure Judy is on to me, but despite the fact that he's smart enough to be a doctor, Phil's a lot more gullible.)
The free ride might be in a speedboat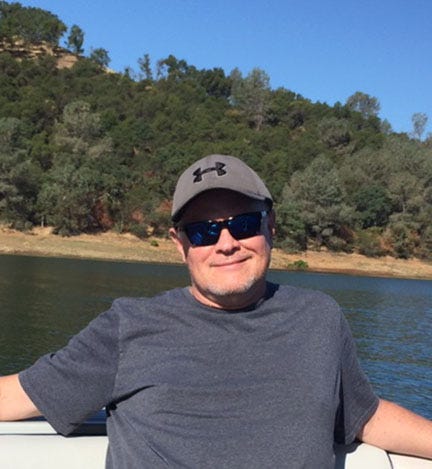 So Sunday morning after another excellent breakfast Phil said we should take his speedboat for a ride and a swim; it was a great way to start the day.
He didn't need to ask twice.
I don't know how your Sunday started, but flying across Folsom Lake at high speed while Spotify blasts Van Morrison and Them playing Here Comes the Night is not a bad way to start the day.
Later, we found a couple of my son Paul's songs — My Year by Gashi and Danger by Migos and Marshmello — on Spotify and cranked them up while backstroking around the lake.
(Note to self: Be ready to shift your freeloading from your best friend Phil, to your son Paul. Phil is the past and winding down; Paul is the future and just getting started. I mean those sausage-and-egg sandwiches are taking longer and longer to cook.)
My personal mixologist
After the boat ride we had lunch (guess who paid) and then later in the day Phil decided to play bartender while I played his customer. In the above picture I'm holding some kind of Jameson's, cherry-orange, whiskey sour.
Phil said they weren't as good as the ones he had in Dublin, but rest assured I'll keep him working at it until he gets it right; it what best friends — and freeloaders — do.
Today's schedule
OK, last night's baby-back ribs were excellent and so was the french toast Phil made this morning. Today I'm going to spend time with my mom and then take a drive up the mountain and visit my old high school before the kids come back to school and I look like a creepy pedophile stalking victims.
I'll let you know what Phil mixes up during the cocktail hour this evening and even if it's not quite right, I'll go ahead and drink it, because that's what friends are for.
That and French-press coffee in the mornings.