Hangtown Hangout
Day 9: A stroll down Memory Lane, AKA Placerville's Main Street…
Today's subject is our failure to value what we have until we don't have it anymore.
I moved away from the Sacramento area in 1979 and haven't lived here since. But when I did live here – especially in the late 60s and early 70s – I spent a lot of time in Placerville and until yesterday, never gave much thought to its beauty.
It was just one of the places I grew up and back then I didn't pay a whole lot of attention to anything, with the understandable exceptions of cars, girls and football, although I'm pretty sure I just wrote those down in the wrong order.
But yesterday I was walking down Placerville's Main Street when it occurred to me that if you live in Kansas City you don't get too many trips to the bank with mountains and pine trees in the background.
Even though it was a weekday it seemed like there were plenty of tourists around Placerville and one family was speaking something other than English. Those people traveled a long way to see something I saw all the time and took for granted.
According to Wikipedia, Placerville got its start after gold was discovered in nearby Coloma and was originally known as "Dry Diggins" and then "Hangtown" after some people got their necks stretched as local entertainment.
Eventually the Chamber of Commerce types came up with "Placerville" which I think we all have to admit is better than Watch Out, We'll Hang Your Ass, California – although I'd certainly buy a T-shirt with that on the front.
Yesterday, I walked around Placerville, took pictures and remembered.
The Liar's Bench
Unless I'm completely misremembering – which happens way more often than I like to admit – The Liar's Bench was around when I first started hanging out in Hangtown. As a high school student I seem to remember thinking The Liar's Bench was a place for old drunks, so yesterday it seemed natural to make it my first stop.
Those are now my people.
And you've gotta admire a bar that lets you start getting fucked up at 8:00 AM…some days are like that.
The crosswalk
I included this picture because it shows how close the forest is to Main Street and I because I believe that crosswalk – or a similar one a little further down the road – is the reason I failed my first driver's test.
I was in my step-father's Pontiac Grand Prix, which was wide enough to land airplanes on and didn't seem like it was going to fit while going down Placerville's narrow, two-lane Main Street. I was trying to avoid clipping any side view mirrors while piloting the USS Ticonderoga and doing it half-blind because I was too vain to wear my glasses.
Let's just say I had a lot on my mind.
Turns out it's not a good idea to make an old lady jump for safety when she's crossing the street and you decide to blow through the crosswalk. I figured it was every man – or female octogenarian – for herself; the guy giving me the driving test disagreed.
I had to come back two weeks later to retake the test and as Nuke LaLoosh would say, I established myself with authority: I had a date lined up for that night and the destination was the Se Rancho Drive In.
Had I failed the second test, we would have arrived on a skateboard.
The Empire Theater
This used to be the Empire Theater and if I recall correctly, I took my high school girlfriend there to see Gone with the Wind.
That movie came out in 1939, so it wasn't exactly a first run, but neither of us had seen it before and my girlfriend wanted to see it because it was romantic and I wanted to see it because then I got to see my girlfriend, too.
As I recall Gone with the Wind was excruciatingly long (3 hours and 58 minutes) and by the time Rhett Butler finally said: "Frankly, Scarlett, I don't give a fuck" I was in total agreement.
The Bell Tower
I guess the town burned down a time or three before the City Fathers decided it might be a good idea to figure out a system to let the volunteer fire department know it was time to get their ass in gear and keep the town from going Crispy Critters for the fourth time.
They came up with The Bell Tower.
It's right smack-dab in the middle of town and has been around since the late 1870s – or about the same time I lettered in varsity football.
Raymond's Liquors
But nothing got me more worked up than seeing Raymond's Liquors was still around; now that place brought back some memories. Raymond's Liquors was where we went when we wanted to buy beer, but weren't 21.
We'd hang around outside, nervous as a porn star in a confessional and wait for a likely-looking customer to approach the store – it helped if he was already in the bag – and then we'd offer him some extra money to buy us a six pack, which we'd then split three ways.
Woohoo…wild times.
The County Fairgrounds
Couple of stories about the El Dorado County Fairgrounds come to mind, some unprintable because I'm not sure the statute of limitations has run out, so here's a couple stories I can tell:
Our band – Country Sausage – used to play in the building below:
(Wow…just realized I'm a really shitty photographer.)
Country Sausage was OK – we were a cover band – and got invited to play here on a regular basis. On the night's we didn't play, we'd go up to hear whatever band got the invitation instead and one night I walked in and had my ass blown away by a band I never heard of.
Tower of Power.
We were doing Creedence Clearwater Revival covers and they had a horn section that could melt your eyeballs and would go on to have hits like, "You're Still a Young Man" and "So Very Hard to Go."
I'm guessing those TOP boys had a discussion with their manager after that appearance, as in: "Where the fuck did you book us? Dude, there were stables next door."
This picture – which doesn't appear to show much – actually shows an area that changed my life and that takes explaining.
The first time I left home I moved to San Francisco and hated it like Dracula hates garlic. I didn't know anybody; it was too big and too crowded and you were either on the street without about a billion other assholes or all by yourself in your apartment.
Not my thing.
So one weekend I came home and went to the El Dorado County Fair and what you're looking at is the area where they set up the midway with the booths and rides; I couldn't go ten feet without running into somebody I knew.
It made me homesick as shit, so I went back to San Francisco, quit my job and came back to Sacramento.
I guess I eventually got over my homesickness because I moved to San Diego in 1979 and Kansas City in 1981 and haven't thought about it twice. But seeing the County Fairgrounds reminded me of the comforts of home, familiar surroundings and old friends.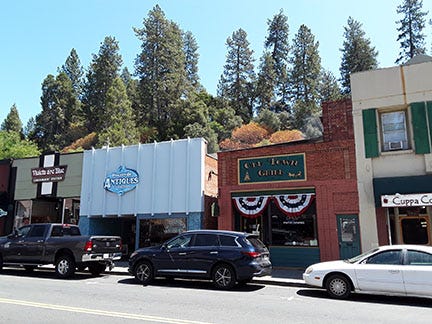 If you grew up around here and still live here – and I know some of you did and do – I think you did pretty damn good. You've spent your life in a beautiful part of the world, surrounded by friends, and if you ever need a drink at 8AM you know just where to go.
Maybe I'll see you there.