My Top 10 unforgettable experiences, Part II
The Fourth of July, Mayan ruins, Key West, Jimmy Buffett, Tijuana and tequila...who could ask for more?
In this sequel we find out how Don Corleone came to power and Fredo takes one in the back of the head. Wait a minute…that's Godfather Part II which I just watched again for the sixth time and it was still awesome.
Let's get back on track.
Last week I promised to name my top 10 unforgettable experiences, but only posted five so even with my math skills I'm pretty sure I owe you five more stories.
Starting with…
Fourth of July at the Canadian Embassy
One year the political cartoonist held their convention in Washington, D.C. and some of the Canadian cartoonists invited some of the American cartoonists to come to the Canadian Embassy for their Fourth of July party so we crashed it and the Canadians didn't seem to mind or if they did were too polite to say so.
We wound up on the Embassy roof watching fireworks being shot off over the Capitol building while drinking someone else's booze and which is a pretty awesome way to celebrate the Fourth.
I brought along two of my kids – Michael and Paul – and when I recently asked Michael what he remembered about that night he reminded me this happened in 2007 and Alan Greenspan was there standing by the roof's railing and if Michael had known about the economic crash just around the corner, he might have given Al a shove.
Chichen Itza plane ride
Back before travel agents became an endangered species one of them convinced me and my wife nominee to honeymoon in Cozumel, an island just off the coast of Mexico.
When we arrived at the airport there were guys in military uniforms carrying machine guns to greet us. I thought maybe we had shown up just in time for an overthrow of the government, but it turned out some drug runners had accidentally run their boat aground, escaped and were somewhere on the island being hunted by guys with automatic weapons.
Awesome set of circumstances for a honeymoon.
Then I found out we could take a tour of the Mayan ruins at Chichen Itza, but it would require a plane flight to the mainland. When we showed up for that trip, the plane appeared to be the same one used by Ingrid Bergman to leave Humphrey Bogart in Casablanca.
The crew consisted of a pilot, a stewardess (whose main job was handing out 7-ups and barf bags) and a teenage kid who pushed a set of stairs up to the side of the plane.
At one point we were bouncing around over the jungle when I heard someone say, "Chew look lovely today" – it was the pilot who appeared to be Cesar Romero's half-brother, busy hitting on a couple of female tourists.
If you're currently thinking, "Who the hell was flying the plane?" we think alike. I looked down the aisle to the open cockpit door and it was the kid.
Clearly, we survived, but I will never book another honeymoon trip with the Indiana Jones Travel Agency again.
Captain Tony's movie
There's a bar in Key West called Captain Tony's Saloon and it used to be owned by a guy named Tony Tarracino. It's located in the building that was the original Sloppy Joe's and a bunch of celebrities who have hung out at Tony's have their names painted on bar stools.
It's also the place Jimmy Buffett got his start.
I met Tony and we hit it off and he invited me and my wife to come back the next morning before the bar opened to watch his movie, Assignment: Kill Castro which Wikipedia says is about a mercenary tavern owner who becomes involved in a plot to kill Fidel Castro which considering the title, you might have seen coming.
Tony was played by Stuart Whitman. This is Tony…
And this is Stuart Whitman…
The resemblance is striking, isn't it?
After watching one of the worst movies I've ever seen in which the bad guy gets his head crushed by an irritable sea turtle, Tony told me the movie was based on fact and I was trying to decide just how full of shit Mr. Tarracino actually was.
That's when a guy walked in the bar, yelled "Capt. Tony!!!" while hugging him and then the guy proceeded to tell me how his boat caught on fire and Tony swam over from another boat with a rope in his teeth to save him.
Further research reveals Tony left New Jersey after cheating the Mob on some race results and the Mob beat his ass and left him for dead in the Newark city dump which is a pretty good reason for relocating. Tony was married four times, had 13 kids and the last one was born when Tony was 70 years old.
Jimmy Buffett wrote a song about Tony called Last Mango in Paris and when I met Jimmy – a moment that should probably be on this list – and told him about my private viewing of Tony's movie, Jimmy laughed and said, "So you've seen Attack of the Killer Turtles, huh?"
Now here's a video of Jimmy singing Last Mango in Paris:
So whichever parts of Tony's life were fact or fiction, I think you gotta say that was a life fully-lived and I was lucky to share a few hours of it.
The 2015 World Series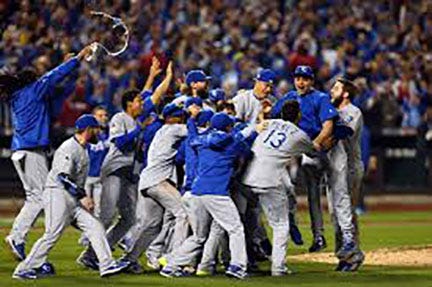 In 2010 the Kansas City Star asked if I wanted to cover the Royals and the answer was yes; turned out my timing was perfect.
The core of players that would win the World Series in 2015 showed up in Kansas City in 2011: Eric Hosmer, Mike Moustakas, Lorenzo Cain, Alcides Escobar, Salvador Perez and Danny Duffy – and if I'm forgetting anybody, my bad.
But the point remains: I was there when those guys showed up and I watched them go from a bunch of kids to World Series Champions.
The night the Royals won the Series I was in New York and went down to the clubhouse afterwards.
The rest of the reporters got their quotes and went back to the press box to write their stories, but I didn't have to write until the next day. I was about to leave the clubhouse and then thought, "Where the hell am I going?" and decided to hang out and watch the party.
When I finally left the clubhouse in the wee hours of the morning, Chris Young – a player I liked to talk to because he was smart and did his best to make me smarter – gave me a hug.
Chris is 6' 10" and I ain't so my face ended up in the middle of his champagne-soaked T-shirt and I later said it was like hugging your dad if your dad smelled like Cristal and cigars.
Got to the subway platform around 3 AM and rode back to my hotel with a guy who turned out to be Luke Hochevar's college coach. Luke had called his coach that morning and told him if he could get to New York that night, there would be two tickets waiting for him.
Don't know if you remember, but the game went 12 innings and Luke was the winning pitcher.
Now how cool is that?
A night on the town in Tijuana
This one definitely makes my top 10 unforgettable experiences, but the story – which includes a mariachi band, death threats, waterboarding, a fire extinguisher fight and fried tripe – is too complicated to tell in just a few paragraphs.
It deserves its own posting and that will happen very soon.
Stay tuned.