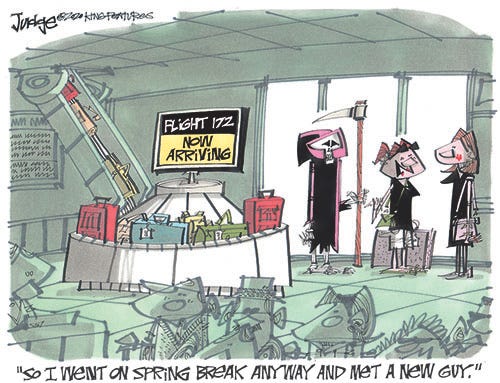 That headline refers to a Sidney Poitier movie from 1967 so I'm guessing some of the younger readers (assuming I have any) won't get it and also wonder who the hell Sidney Poitier is.
Google him, it'll be worth your while.
Guess Who's Coming to Dinner is a movie is about a white woman bringing her black fiancée home to meet her supposedly liberal parents. These days, young, old and in-between people who refuse to follow social distancing guidelines might be bringing a very different guest to the table.
I drew this cartoon after I saw video of kids on spring break acting like everything was normal. One young man said if he got the "corona" that was the breaks, but he wasn't going to let it interfere with his partying.
Good to have standards, I guess.
Problem was he didn't think about his parents (who probably financed his trip) and what spring break souvenir he might bring home to them. "Yeah, killed my parents, but I had a kickass time in Daytona" isn't a story anybody wants to share.
I'd like to blame this dumbass attitude on the young, but I still see plenty of people of all age groups doing stupid stuff that is going to endanger the people around them.
This staying at home stuff sucks, but if we don't bite the bullet now, we – or someone we love – might bite the dust later.